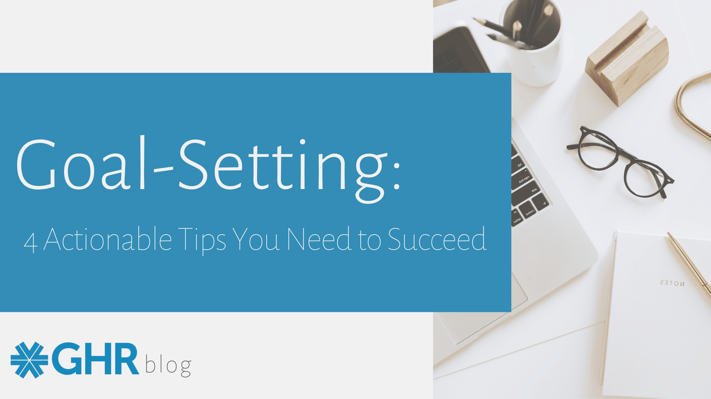 Well, autumn is officially here! Fall is a favorite time of year for many. It's also a time of year marked by new beginnings, renewal, and refocusing for many (and pumpkin spice lattes, of course). However, setting goals with the best intentions and figuring out how to get where you want to go are two very different things.
We all live busy lives and, let's face it, personal growth requires energy, time, contemplation, and action. That's why we're bringing you this #GHReatTip filled with actionable steps and takeaways, so you have what it takes to meet your goals.
Our Formula
4 Tips To Turn Your Dreams Into Reality
---
1. WRITE IT DOWN
Step one is moving a thought onto paper. This is very simple, yet something many people do not think to do. The simple act of writing down your goals and aspirations makes you 42% more likely to achieve them! Why is that? It's a mental trick. Subconsciously, we feel more accountable for things we write down - discuss - and move into a more permanent reality, as opposed to the millions of thoughts we have running through our minds on any given day. Give it a try. You don't have to write it for anyone but yourself.
More on this:
Use the S.M.A.R.T goals method
Make sure your goals are Specific, Measurable, Achievable, Relevant, and Timely. Come back next week for more on S.M.A.R.T. goals!
2. START NOW
A perfect plan is never perfect tomorrow. What small steps can you take right now towards your goals? This week? This month? It might be as simple as booking a doctor's appointment this week if your goal is to address a health concern. Maybe it's checking in on a friend and scheduling a time to get together if your goal is to invest more in your friendships. The point is, we can ALWAYS start now. We just have to choose to.
More on this:
Find some motivational quotes. Make them your screen saver or print them and hang them where you'll see them every day! Here are some of our favorites
"The journey of a thousand miles begins with a single step."

— Lao Tzu
"You don't have to be good to start… you have to start to be good!"— Joe Sabah

"The vision must be followed by the venture. It is not enough to stare up the steps – we must step up the stairs."

— Vance Havner
3. TRACK YOUR PROGRESS
The biggest form of motivation? Look at how far you've come. What were you worried about last year at this time? Time moves fast; give yourself credit for what you have overcome. There will be days when it's hard to come back to your goal after a temporary setback, or moments when you'll need a turbocharge to keep up with your goals.
Taking inventory of all that you've achieved and built will remind you of how capable you actually are. So, when taking small steps towards your goal, have progress check-ins with yourself *on paper.* Making it ritualistic will motivate you and help you stay committed to the long term.
More on this:
Learn about journaling for goal-setters and go-getters. Try using this prompt
How would I feel if I was on the other side of what I want to achieve?
4. BRING THE HYPE
This is KEY. We need support when stepping out of our comfort zone, facing change, creating new habits, breaking old ones, and improving our lives - change is not easy! Don't undersell the weight of your undertaking, support is a major success ingredient.
First and foremost, you can be your own biggest fan, and you should be. Celebrate every achievement, no matter how small. Your excitement will be contagious, you can't rely on other people being happy for you first. Then allow others to share the hype with you-- share your goals with those who cheer you on behind closed doors, find an accountability buddy, or connect with others chasing similar goals as you.
More on this:
Check out in-person groups or virtual communities, like Facebook groups, centered around your specific goals or motivation in general.
Find a podcast that inspires you!
---
Did this post inspire you to sit down and set some goals? What tips do you have for goal-setting? What has worked for you? What progress are you proud of?

Share in the comments! We're rooting for you!