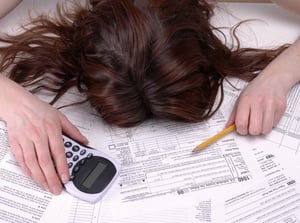 We have no doubt there are a group of you reading this who have everything ready to go with your taxes. You have all your information pulled together, forms are filled out, and you're ready to submit.
Congratulations. You can probably move on with your day, because in this email we're talking to the rest of you. Yep, this GHReat Tip is for everyone out there who is suddenly realizing that March is coming to an end and April 15th is just around the corner.
First Things First: Don't Panic
For many, tax season is the equivalent of a root canal (with apologies to all Dentists), something to put off as long as possible!
Don't worry, you're far from being alone. Though with only a couple of weeks to go, it's time to face the inevitable and get started. Here are five things to do tonight to get going:
Locate last year's return
Make a mental list of major stuff that happened in 2021 which might impact your taxes
Go on a form-finding mission and track down your tax forms
Compile your deduction documentation
Line up some help if you're in over your head
For more details, check out this helpful article.
Time to Get Some Help?
Sometimes you have to face reality…it might be time to turn to the pros for a little help. Finding a trustworthy income tax preparer is a good idea. That being said, not all tax preparers are equal. Here are six quick tips from the Better Business Bureau to help you choose the right one for you.
Review the tax preparer's credentials
Be wary of spectacular promises
Get referrals from family and friends
Think about availability
Ask about fees ahead of time
If things don't add up, find someone else
Check out the BBB article for more details here
If all Else Fails, Get an Extension
It happens. There comes a point where you just can't get it done in time. Don't worry too much, you have the option to ask for more time. Here are three things to know.
You don't need a good excuse to get one
You may want to request one if you don't have all of your tax forms in time
You won't get more time to pay your tax bill in you've underpaid your 2021 taxes
Need to extend, we strongly urge you to review this article for more details.
Does anyone love tax season? Probably not, but it doesn't have to be a nightmare either. We hope the above thoughts help you relax a little and put you on the path to completion.
Stay well.