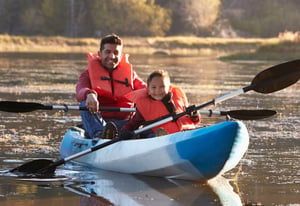 Ahh, Memorial Day weekend, the first holiday of the summer. And with it comes the start of water season, which is why May is also National Water Safety Month.
Face it, we all pretty much love the water during summer. Boating, fishing, swimming, water sports, the options are endless. But with all that fun, also comes risk.
Water tragedies can happen in an instant. In the U.S., an average of 3,500 to 4,000 people drown each year. Boating fatalities have actually increased 25.1% during the last few years. The good news is most water accidents can be avoided by following some simple guidelines.
Wear life jackets for boating and while swimming in lakes, rivers, or the ocean.
Know how to swim and teach your children to swim.
Be aware that inner tubes and play rafts are not flotation devices. Life jackets are the only flotation aid you can rely on.
Swim lessons for children four years old and over.
Never leave children unattended around water, no matter what their swimming skill level.
In public pools and beaches, children should swim only when lifeguards are on duty or if an experienced swimmer is watching.
To avoid accidental falls, be sure to cover your pool or spa when not in use. All pools should be fenced.
Know the rules of boating safety.
Ponds, five-gallon buckets, and wading pools are also potential drowning hazards for children. Empty water from buckets and wading pools, and always make sure children are supervised around water.
Learn CPR.
If you want to learn more, here are some great places to start:
Stay well.
Sincerely,